VISUAL ARTS STATEMENT AND BIO

"Through my visual art, I strive to express the spiritual challenges one faces - and transcends - while traveling through life toward the ultimate goal of realizing one's full potential as soul.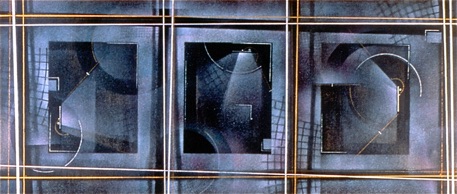 As personal journeys and life's challenges take place via experiences in the physical realm, so does a parallel inner movement and growth toward 'cosmic consciousness' take place within spiritual realms.

Those inner travels are represented by my abstract paintings. I also paint naturalistic subjects as a form of meditation.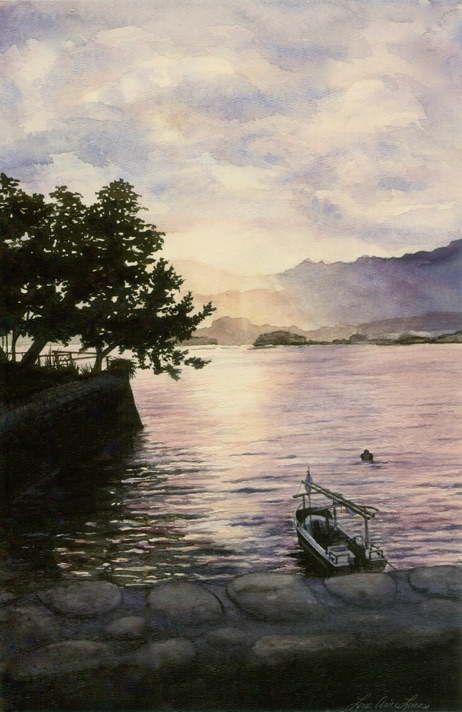 My abstract clay sculptures can serve as solid symbols of that same spiritual concept described above, or can deal with relationships between two souls, and how they assist one another in life.

I enjoy sculpting naturalistic subjects, too, ESPECIALLY WILDLIFE.

I MAKE FUNCTIONAL AND FINE ART POTTERY/CERAMICS - BOTH wheel-thrown and hand-built vessels.

I THINK OF MY FINE ART POTTERY as possessing a ceremonial energy. Inspired by - though quite different from - ancient Chinese bronze vessels I saw as a young woman. My hand-built ones make me imagine a sacred purpose they may be intended for.

My more structured, wheel-thrown jars, often have automatic writing of symbols on the surfaces that I imagine as a narration or description of what is contained within. My combined wheel-thrown pottery and hand-built clay vessels often use imagery from my abstract paintings on the surfaces, with meaning intermingled, also."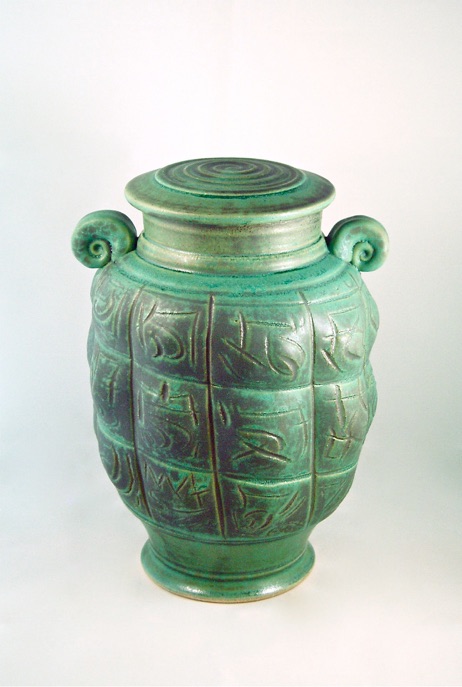 * * * * * * * *


MORE ABOUT LENA, IN HER OWN WORDS

"...Yes, I do work in a variety of mediums, and enjoy the one I am doing at the time the most. I do not want to 'follow one path' as far as my art and life goes, because all paths ARE ENJOYABLE, AND lead us to our true purpose, so I want to TRAVEL as many as I can...

Growing up in Nashville, TENNESSEE, USA, SOME EARLY memories INCLUDE sitting on my father – William (Bill) Lucas' knee – while he studied and marked on blueprints of bridges or locks and dams, preparing for his next massive structural-steel project.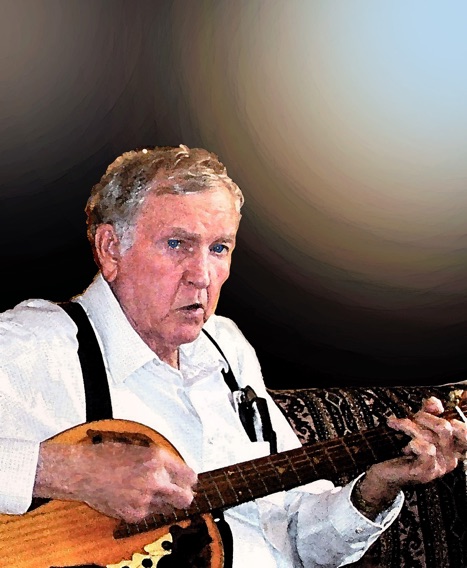 LENA'S FATHER, William (Bill) Lucas

I clearly recall him explaining that the large drawings represented multiple views of structural steel constructions, that the odd marks and symbols had much more meaning than they appeared, and that they held the keys to how to visualize and build the structures.

It all made perfect sense to me. On breaks from his blueprints, he would take up an always handy #2 pencil and yellow legal pad, and sketch little realistic drawings to both entertain and instruct me as I watched, transfixed. (He was also – and still is – a fine singer.)

As a young child, I spent countless hours drawing, painting and 'making art and things.' I thought such activity was simply what people 'did.' Often, at other times, I would gather neighborhood children around and teach them how to do their own little art projects that I had thought up. Looking back, it is easy for me to see how I - in my adult life - naturally became an artist and art teacher.

MY Senior year at McGavock high school WAS PIVOTAL.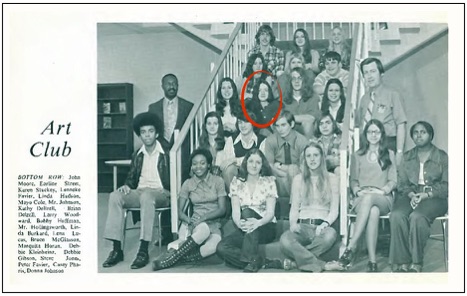 I was encouraged to explore a variety of mediums and techniques - without boundaries (i.e, pottery, large-scale abstract sculptures, abstract painting...) - by two of the region's most outstanding ARTISTS/teachers - Bill Johnson and Bob Hollingsworth, who together taught Seniors as 'Team Teachers.' Via their encouragement, I quickly moved further toward abstraction and have been using it as my primary means of fine-art artistic expression, ever since.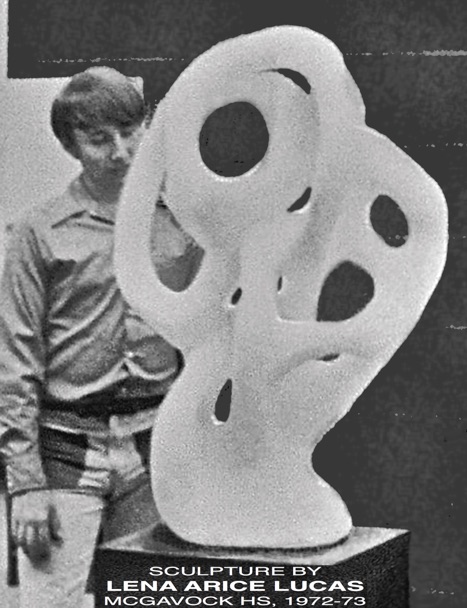 At age 18, I was fortunate to be allowed to live in an apartment above Pat Beaver's (teaching and producing) pottery studio in Hendersonville, TENNESSEE. In exchange for rent, I Loaded kilns for the classes she taught, mixed glazes and maintained the studio. SINCE she allowed me to make as many things out of clay as I wanted to – I LEARNED MUCH. That was an education! For a paycheck, I pugged (mixed) clay she used for her students' classes and sold at her in-town Hendersonville business, "Gallery III," where she also trained and paid me as a picture framer. She really got me going in the craft and art world. What I learned from her helped me nab my Centennial Art Center job, later, at age 19. I owe Pat Beaver so much.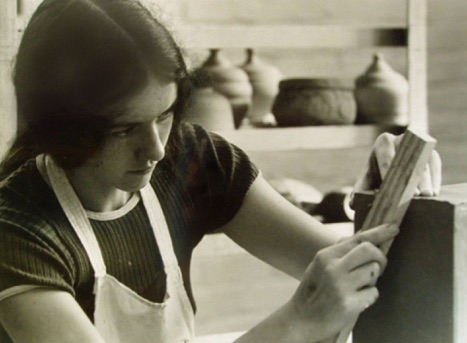 LENA ARICE LUCAS, AGE 19

CENTENNIAL ART CENTER

Another creative involvement of mine is music. I compose instrumental music and am a song-writer. Visit my Music page to hear some.

SONG ILLUSTRATION

I used a composition as the soundtrack (edited longer to fit length) for a video featuring my art. Visit my Video page to view it or go to YouTube. Creating song-lyric videos - for Miller's Tale Music - are a recent interest. Visit my Videos page or YouTube Channel to see them.

SONG ILLUSTRATION FOR MILLER'S TALE MUSIC

A recent interest - illustration - was inspired by creating my husband Dan E. Strimer's music publishing web site. I decided to illustrate some of the songs featured therein, and many of them can can be seen here in the 'Galleries' section on the 'Illustrations, Digital Art & Graphic Design' page. To hear the songs that inspired the illustrations, visIt Dan's website: Miller's Tale Music Publishing.

My visual art production has been interrupted periodically by spine injuries and subsequent surgeries during my life, but I always get back to creating art when my health allows.

DANIEL E. STRIMER, LENA'S HUSBAND

I greatly appreciate my husband, Dan E. Strimer, who supports me with his love and encourages me always in all ways."

Lena Arice Lucas


All images, art works by Lena Arice Lucas depicted in this website (or anywhere else), and her music featured herein, are copy-written by Lena Arice Lucas. Reproduction of them for any reason in any way is prohibited unless permission is acquired from Lena Arice Lucas.     

© 2015